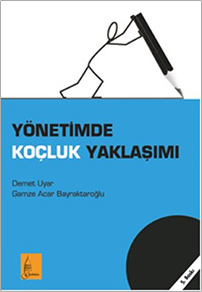 Coaching Services
Who is a Coach and What Value Does He / She Add ?
Coach, is a person who will monitor the developments with you and put you in action towards your goal.
Coach, is a person who pushes and motivates you in order to expose your potential and resources
Coach is a partner, in your desired life journey.
Coach provides you with your self-awareness.
Coach, provides you the support, structure and necessary tools to enable you reach your targets.
Coach makes us realize our positive and negative habits.
Coach accompanies you in the process of transforming your vision into reality.
Cultivation Program for Internal Coaching and Mentoring
It is a customized program for developing coaching skills of the managers who are chosen to coach or mentor the company's employees. After completing this program, the company coaches and mentors can practice these skills either on their subalterns or on the other departments' employees.

What Do the Employees Gain From This Program?
They are given the chance to determine their problems together with their development areas. .
They gain an objective perspective about themselves upon the feedbacks given to them.
After determining their targets, they prepare an action plan and put that in motion.
Motivation increase due to performance rise.
Creativity increase due to various thinking models.
Company loyalty increase after this investment is made for them


Performance Coaching
This is a practice realized upon business targets and employees' development areas. During the whole process, the coach and the coachee are preparing an action plan in line with coachee's business targets and development areas and act accordingly.

What Does the Coachee Gain?
Realizes the competencies needed to kick targets.
Gains a raodmap for development
Encouraged for those targets.
Feel delighted by helping others' development.
Refresh their knowledge and gain different perspectives


Sales Coaching Sales teams have particular life styles which are target oriented and peculiar to themselves. Sales coaches help the sales managers and their team to designate the phases to reach their targets and aid them to achieve the best efficiency in their journey to those targets.

What Does the Coachee Gain?
Increases the dynamism of sales teams.
Provides positive interaction.
Makes the sales people reach targets more effectively.
Benefit from each other's experiences.
Become aware of strengths and development areas.
Life Coaching
This is a practice which increases individuals' life qualities and add more meaning. It is coaching for those who wish to establish a balanced & satisfactory life and to make a joyful journey out of it while discover their potentials.

What Does the Coachee Gain?
Learns to establish life balance.
Life quality increases.
Gains the courage to define a route for life.
Breaks the inner obstacles such as worry, fear and lack of confidence.
Discovers strengths and gains power out of them.
Discovers resources.
Draws a roadmap by using these resources to reach targets.
Career Coaching
This service is given to the people who have question marks about which profession to choose or whether they are fit for their current positions. By this practice, these people become aware of their competencies, and are encouraged to get to action upon the roadmap designed for them.

What Does the Coachee Gain?
Decide how to proceed with their career.
Defines clear targets.
Prepare action plan and put in motion.
Become mindful of their competencies.
Use resources effectively hence increase life quality.
Entrepreneurship Coaching
This coaching service is for those who are just enterprising a business or wish to grow or institutionalize their existing business in a proper way by showing them how to develop their particular skills for reaching those targets.

What Does the Coachee Gain?
Entrepreneurs become conscious about the requirements to start a business or to grow an existing one upon their own personal analysis, thus learn to question themselves.
Define clear targets.
Prepare actin plan and put in action.
Use resources effectively and increase life quality.
Maintain more satisfaction both financially and spritually.
Team Coaching
This practice provides synergic growth for teams, more harmonious work and effective outcome. During this program the coachees gain skills to produce creative solutions.

What Does the Coachee Gain?
Work more effectively.
Increase creativity.
Notice their resources and use more effectively.
Define the reasons for internal conflicts and take precautions..
Focus on their collective targets.
Get to know each other better.
Build team spirit.
Own their responsibilities.
Feel delighted by helping others' development.
Refresh their knowledge and gain different perspectives.
Management Coaching
The manager reaches targets more determined and quick. Additionally, gains skills to enhance his / her and employees' performances while getting to know himself / herself better

What Becomes Different in Managers?
Administrative and communicative skills improve.
Integrates professional and personal targets.
Can do self-judgement with the mirror method that the coach uses.
Notices the personal and subjective limitations and learn ways to get rid of them.
Unifies his/her subalterns with the strategies and targets of the company.
Decision taking and adapting skills improve.
Determines priorities and make more effective time management.
Questions himself / herself periodically and prepares more disciplined development route.